What is ALCO? Friendly faces. Small-town America. Every day value. Right in your neighborhood.
ALCO Store Management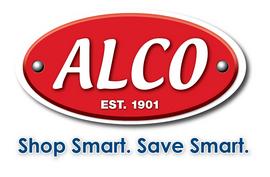 Managing an ALCO store means more than just supervising associates – all store managers are committed to the company's overall success through store operations, merchandising, human resources and customer service. Each store has its own uniqueness, as does each community. This means our store managers must have an understanding of their local markets and create a store that appeals to the community's needs – including a welcoming, clean and organized store environment, in-stock and quality merchandise, and a great atmosphere for customers and associates alike. Originating in 1901, ALCO has always served as a neighborhood retailer offering a great selection of high-quality merchandise, friendly service and every day value – now operating in more than 250 locations (and counting) in 23 states. More than 100 years later, ALCO continues to serve small-town markets that are not consumed by larger retailers, therefore building loyalty with both our customers and the communities we serve. Working at ALCO ultimately means relocating to enjoy living and working in a small town (pop. 3,000-14,000). Managing an ALCO store requires teamwork, leadership skills, innovative thinking and commitment. ALCO offers exciting opportunities to develop your skills further, tackle challenges and enjoy a work-life balance. • 3+ years retail store manager experience • Hire, train and develop a staff of 15-25 store associates to develop the knowledge and skills needed to excel in their jobs • Continually evaluate and react to performance issues and actively recruit new store associates • Execute operational excellence through optimizing sales and profits, while controlling shrink, expenses, and payroll • Follow the company's policies and procedures and maintain compliance through regular store meetings and audits • Develop a fast-paced, energetic environment where the store manager will be expected to lead and be involved in receiving, merchandising, inventory and other physical aspects of retail management • Through great customer service and community involvement, the store manager and associates' integrity will be held to the highest regard while representing both the company and community they serve • Completion of the Manager Training Program • Relocation is required Benefits: Health insurance plans available Group life insurance Associate referral bonus program Paid vacation/sick leave Paid holidays Associate store discount 401(K) plan Are you the right fit for ALCO? If so, apply below.
+ Add Text Block